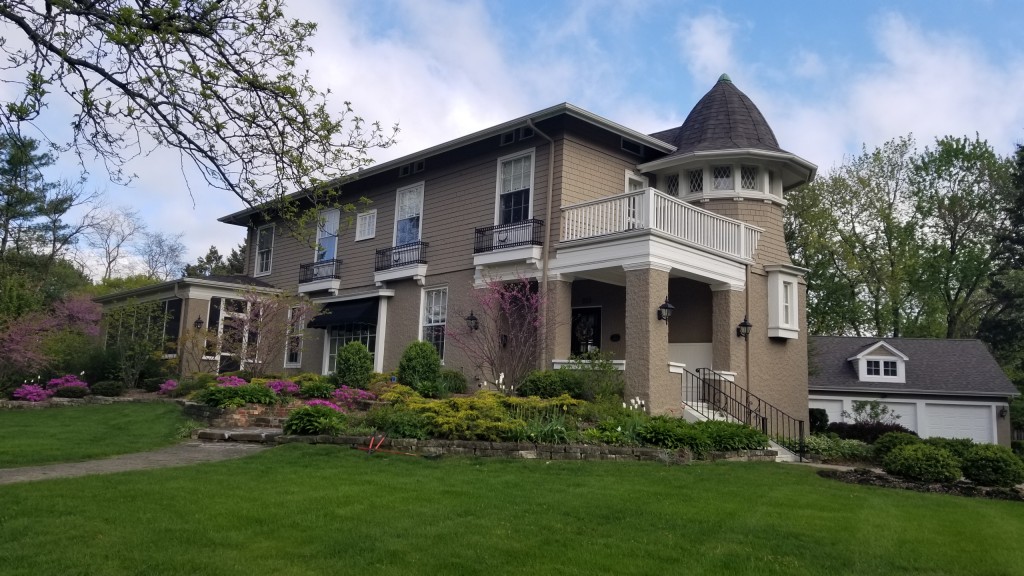 Our first priority is to help you discover and express what you truly want from your landscape, be it continuous color, ease of maintenance or entertaining friends.
After assessing the site, including present plants and trees, architectural style, sun/ shade patterns and other considerations, we design for balance and scale, color and texture, seasonal variation and overall harmony. We anticipate how the plants grow so your landscape continues to please for years to come.
Whenever a design allows, we prefer to use plants native to the Northern Illinois region for their many benefits. Click here to find out more.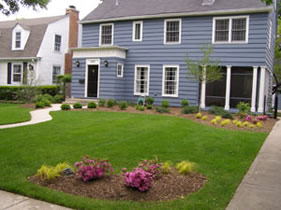 The cottage style is exuberant in its use of color. A floral abundance, often anchored with old fashion roses and hollyhocks, frequently encompassed by boxwood borders. A broad variety ensures blooms throughout the growing season.
Pergolas, trellises and arbored gates are regularly used to provide structure for climbing plants. These gardens require regular care and maintenance, but the delights offered repay the effort.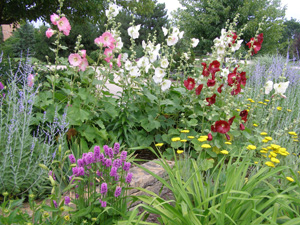 The Shade Garden- a tranquil collection of shade loving perennials such as ferns, native spring ephemerals (bluebells, may-apple, trillium), hostas and many ground-covers such as Canadian ginger, vincas, sedges can be used to fill in under trees and in woodland settings.
Many blooming shrubs and understory trees can be incorporated into the setting as well, such as: Redbud (Cercis), Rhododendron, Viburnum, Bottlebrush Buckeye (aesculus), and Witch-hazel (Hammemalis).
For those shady areas where the lawn has disappeared, the shade garden is the answer. Once established, most shade gardens are fairly low maintenance.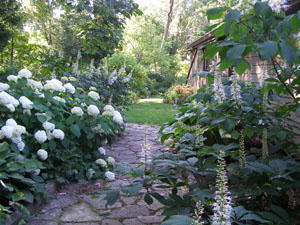 Naturalized Settings - Woodland Restorations
Occasionally we are presented with an area not well suited to a structured, cultivated design such as one bordering or incorporating a woodland, wetland, prairie or other untended spot.
By removing invasive and unwanted species and replacing with high quality plants native to the region, we can transform such areas into natural havens often visited for their seasonal variation.
Stone, Brick and Paver Installations
Nothing pulls a landscape together more than stone or brick pathways and borders. A meandering flagstone path through the shade garden can be quite inviting on a warm summer day. Several chairs on a paver patio with connecting paved walkways will facilitate the perfect garden party Having a fire-pit or fireplace will extend backyard fun into the chilly autumn months.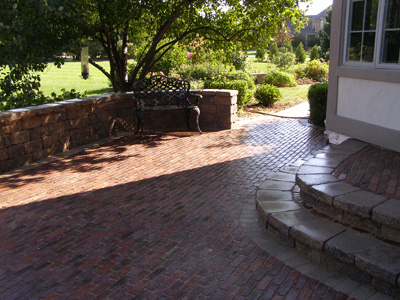 Free-stack and mortared rock and landscape block walls
Raised beds
Steps and stairways
Pillars and light standards
Incidental boulders and stone structures