Four years ago, I chose Ed Max as my landscaper because I saw the beautiful design he created for the home next door to me. And I have never been disappointed in the work he has done for me. Each and every time I happen to be working in front of my home, someone takes the time to tell me how much they admire my landscape design. Ed's knowledge of plants is vast and his gift for design is awesome. As a businessman, I have found him to be straightforward, honest and he always follows through on his promises. Obviously, I give him the highest recommendation!
Mary - Geneva, IL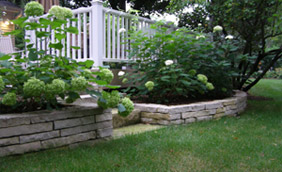 Ed Max was an absolute pleasure to work with. Not only is he knowledgeable about plants and trees, he is a talented designer with an excellent knack for visualizing the final product. He is a great listener. We were impressed with how he incorporated our ideas into his plan, customized his design to fit our needs, and worked with us to stay within our budget. When it was time to put everything in the ground, his crew was tidy, polite, and very fast. Ed came by several times after the project was done to check on our plants and to answer any questions we had. Working with Ed and his crew was a wonderful experience from start to finish. We will certainly use him again on future projects! He created a beautiful outdoor space for us that we will enjoy for years to come.
Colette - River Forest, IL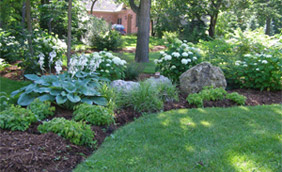 When we recently purchased our ranch style home the yard was a complete disaster. Back yard was 75% mud and mold, water from the sump and roof drains flooded a large area. Very ugly plantings. We interviewed five separate landscapers and picked Ed Max of Max's Greener Places. His knowledge of plants and his design concept were outstanding. When invited to tour his own gardens we could see the mature specimens of those he suggested. The results were outstanding with a great variety of color and forms. There has been a constant bloom of colors throughout the seasons. He and his crew placed a dry creek bed which solved the water problems and the views from our windows is a thrill each morning. We have received many compliments from visitors and neighbours. Ed responded promptly to phone calls and revisited when ever a question arose. We can recommend his service very highly. A very skilled and sensitive professional.
Robert - Batavia, IL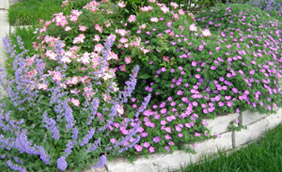 We have been fortunate to work closely with Ed Max for a number of years. He has helped us develop a beautiful, well landscaped yard with border gardens. As the availability of sunlight changed in our yard Ed was able to suggest plants and trees that would grow well in new conditions. We have had long talks about the sustainability of plants and what is needed to help them thrive. One of the best things that we have found working with Ed is that he will say "no, that isn't a good idea, but this might work". This has been refreshing and saved us a lot of time and money. We have vegetation that thrives, trees that have room to grow and do so in beautiful ways. He takes the time to understand what we like and need and works with us to stay within our budget. Our vision seems to become his and even better when planted is what we envisioned. Our yard has beautiful native plants and trees that provide privacy and year round beauty. His crew has always been friendly, professional and efficient. The value of our home and property has been enhanced way beyond what we could have imagined by the suggestions and work that is well supervised by Ed Max.
Sherie - Glen Ellyn Il