Another unique (and healthy) Custom Landscape of Elmhurst, Il. from Max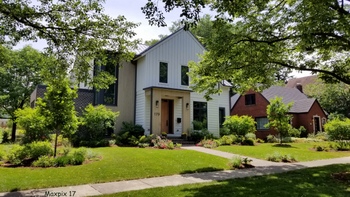 Classic (and newer) Elmhurst, Il. home with vintage architecture followed up w our naturalistic free-form landscape design (2 yrs aft.) using vintage and native species and a rain garden. Unilock paver called 'Thornbury' was used for the patios, and large front paver walkway, plus a Bio-swale (to hold run-off from back) w wetland obligate species and pollinator friendly landscapes! (Wetland species -Swamp white oak, winterberry, sedges, native wetland species), plus Bur oak (Quercus macro.) for truly majestic trees to frame the house (one day). A truly long-term plan w nature and pollinators in mind.
Designs and consultation by Ed Max, certified arborist, naturalist and head designer of Max's Greener Places and maxlandscape.com.