Consider more landscapes, and less lawn: beneficial not just in less humdrum lawn, but better for habitat (less chems).
April 10, 2019
/
/
Comments Off

on Consider more landscapes, and less lawn: beneficial not just in less humdrum lawn, but better for habitat (less chems).
Interesting article and numbers in this NYT article:
By Ronda Kaysen
Spring is here, and that means millions of Americans will soon be seeding, fertilizing and mowing their grass.
America has a lot of lawns. Add them all together, and they'd cover an area roughly the size of Florida, making grass the most common irrigated plant in the country. And all that grass comes with an environmental cost.
To keep weeds at bay, homeowners dumped around 59 million pounds of pesticides onto their residential landscapes in 2012, according to the Environmental Protection Agency. Some of those leach into the waterways,  potentially exposing children and pets to harmful chemicals.
Grass is thirsty, too. Americans use about 7 billion gallons of water a day, a third of all residential water consumption, to irrigate. Roughly half of that water is wasted because of runoff, evaporation or overwatering. And then there's the mowing, edging and leaf blowing. According to a study by Quiet Communities, a nonprofit group, that equipment, mostly powered by gas, emitted 26.7 million tons of pollutants into the atmosphere in 2011. Those emissions contribute to climate change.
Despite the time and resources needed to maintain a tidy lawn, they provide no habitat for bees, butterflies or the birds that feed on the insects.
"Lawns are a significant environmental problem," said David Mizejewski, a naturalist with the National Wildlife Federation. "We put in these lawns, and we basically turned these important habitats into dead zones."
The good news is: You don't necessarily have to let your yard go wild, or dig the whole thing up to plant rocks, in order to lower your environmental impact.
You can reduce your lawn by chipping away one weekend and one season a time, dedicating a few of the hours you might normally spend caring for your lawn to planting native grasses, shrubs, trees, flowers and food.
Consider replacing some of that needy grass with a low-maintenance ground cover like clover, creeping thyme, mint or strawberry. You can also plant a tree and surround it with a bed of mulch. If you already have trees on your property, you could put in shade-loving plants — like hostas, ferns, impatiens and primrose — below the canopy.
Before you head to the nursery to buy any new grass, plant, shrub or tree, try to choose something that's native to your area and not an invasive species. If you're not sure, punch your ZIP code into the Native Plant Finder, which is managed by the National Wildlife Federation.
Another option for reducing lawn area is to start a flower bed or a kitchen garden. The beauty of these plots is that they can start small and expand a bit each season. Plus, they look great, you can get fresh food and herbs, and they'll support butterflies, bees and birds.
Whatever you plant, avoid pesticides and aerate the soil instead. Fertilize grass with leaf clippings and accept that you may need to coexist with dandelions.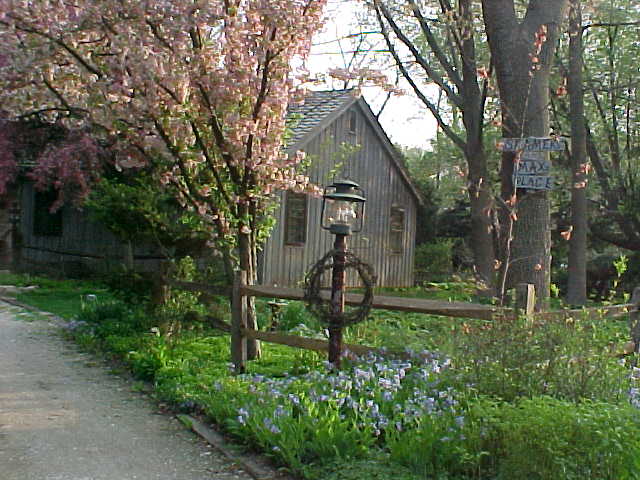 Spring time in a near-lawn- less garden
Bluebells and other bulbs, ephemerals etc will vanish by May, then mow as usual.
Contact us about landscaping with less lawn, we have solutions!